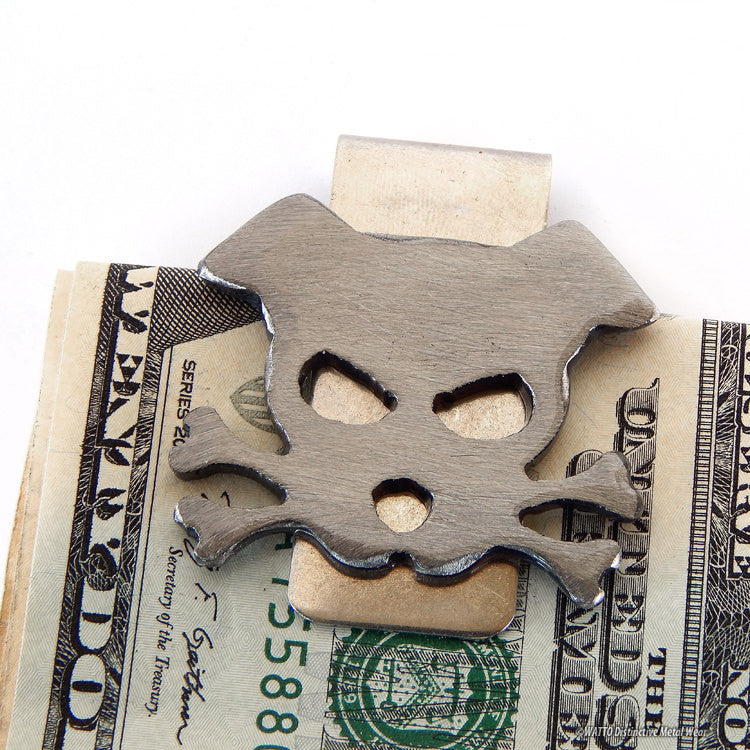 Bandit our little Outlaw Doggy is quite the character! He loves to chase bunnies and bark at the postman and give lots of kisses. Does that remind you of your own little Outlaw Doggy at home?
Your new FUNCTIONAL PIECE OF ART is hand made of steel, created with the finest craftsmanship by metal artist Jon WATTO Watson. It's powder coated for a high gloss finish. Handmade charm is attached to nickel silver colored money clip using an industrial strength adhesive.
Great for gift giving too!
Comes packaged with foiled hang tag in a velvet pouch.
A signed certificate of Authenticity is included so you know it's the real deal!
CHARM SIZE: approx 

1.75"H x 1.625"W

CLIP SIZE: approx 1.75"H x .75"W
PLEASE Note: Money clip will take a while to loosen up.
Our products are not intended for children 12 and under.
Each item is individually made. Size and finish may vary.

Outlaw Doggy is trademarked and copyrighted by WATTO Distinctive Metal Wear. Please do not use the name or image without prior consent.