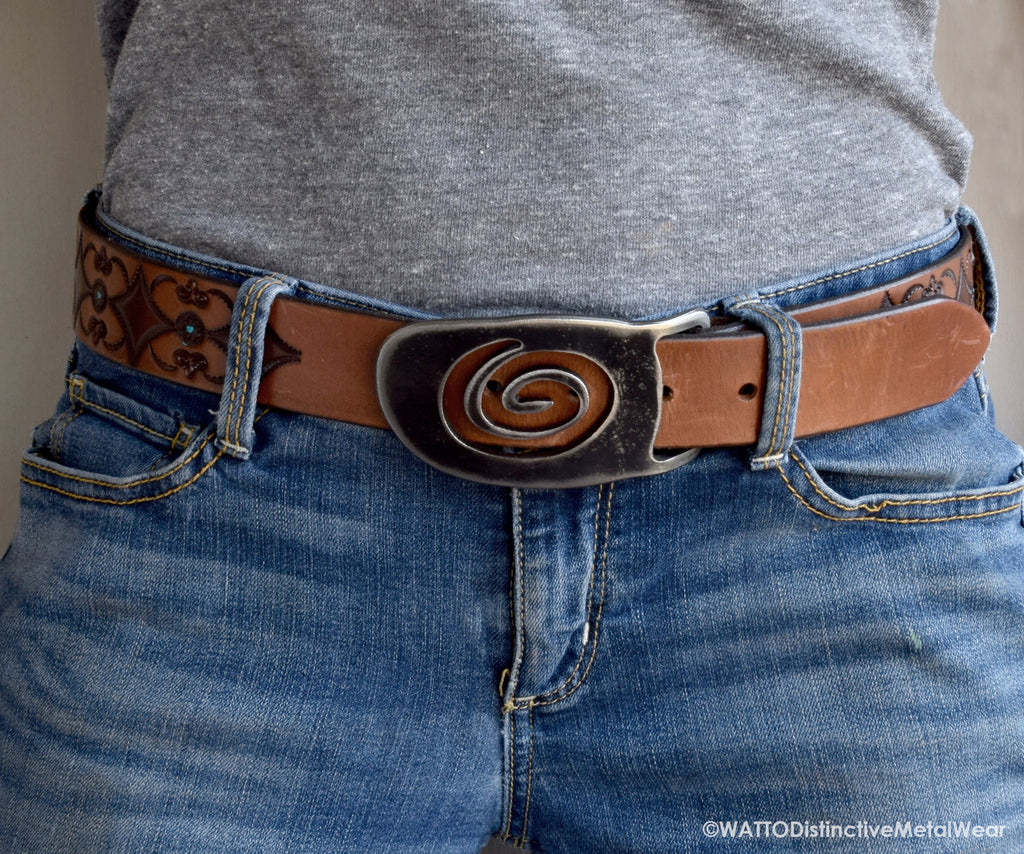 The classic SPIRAL belt buckle can spice up any outfit be it dressy, casual or fun and funky. 
The spiral is a symbol of one's inner journey to God or one's soul. It has also been described as being the shape of fluid energy in which order is evolved from chaos.

Your new WEARABLE PIECE OF ART is completely hand made of steel, created with the finest craftsmanship by metal artist Jon WATTO Watson. It's powder coated for a high gloss finish.

There is a built in loop on the buckle and the back has a welded hook. It is stamped with the WATTO artist stamp!
PACKAGING
Your new buckle will come packaged in a black drawstring bag and black matte box that you can use for storing to keep it looking new . It is tied up with a ribbon and a hand stamped wax WATTO logo.  Included in each package is a Certificate of Authenticity so you know it's the real deal.
SIZE: 2.125"H x 4.25"W main area is approx. 3.25" w
WEIGTHT: APPROX 3.7 OZ
FITS: 1.5" wide belt
Just slide your belt through the loop and snap or screw it depending on your belt then secure the hook into one of the holes on the belt!
BELT NOT INCLUDED
Each buckle is uniquely made so size, shape, weight and finish/color may vary.
Our PRODUCTS are not intended for children 12 years and under.
These buckles are great for gift giving too. Just purchase and send!
*Buckles may need to be made so please allow 2 weeks before shipping. If you need sooner, please use the contact form and contact us and we will let you know if we can ship out more quickly.