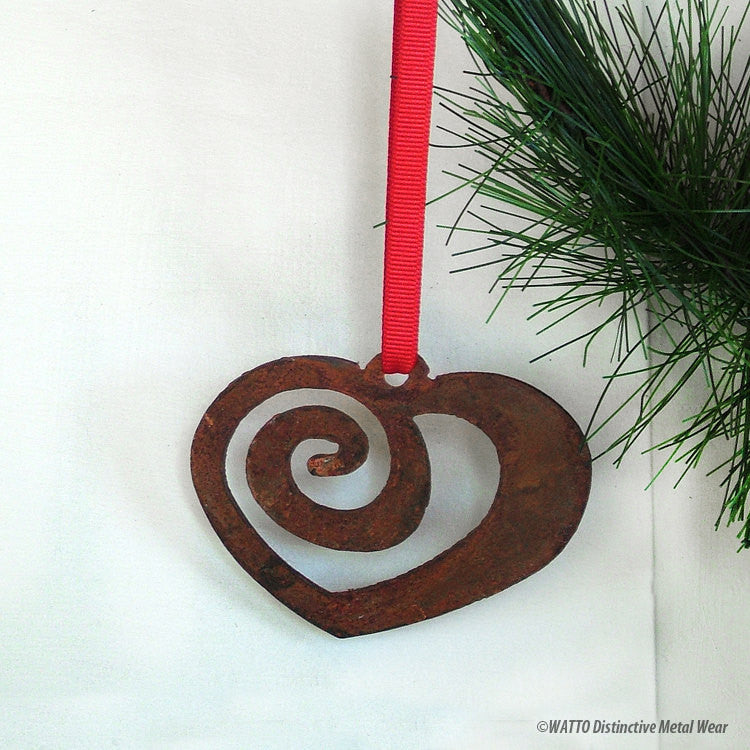 A beautiful spiral heart ornament is the perfect gift for those you love, whether romantic, friend or family.
The heart is a beautiful symbol of love, passion and spirituality. Combined with the spiral, the heart becomes a symbol of eternal love.
We've created a wonderful rusty rustic ornament for everyday (ceiling fan pull, dangle from car mirror, door knob decor etc), or for the holidays handmade by metal sculpture Jon WATTO Watson in Tucson, Arizona.
SIZE: approx 2.625" h x 3.5" w
Comes with a ribbon. Please indicate at checkout which color you would like. Please note ribbon in product photo may vary slightly in color
We cannot control the rust color- every ornament rusts differently and will vary from picture shown- see last image for an example of variations.
Edges will vary from rough to somewhat smooth.
Great for gift giving too!
WANT MULTIPLES (6 or more we offer discounts.)
Contact us and we can get you set up.