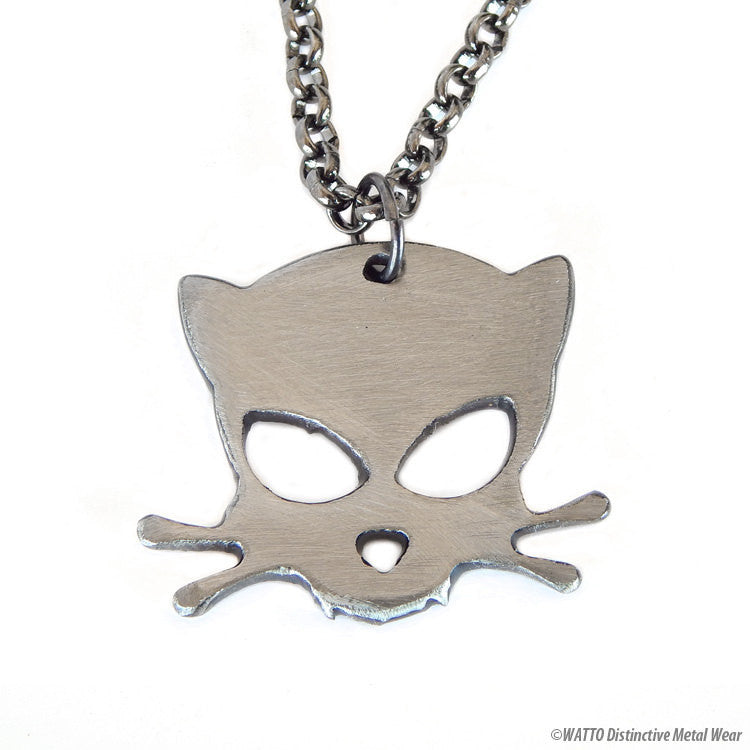 This devil kitty is anything but sweet and cuddly. When you're feeling devilish and daring, this is the chain is for you! You'll be having them purring in no time.
Your new WEARABLE PIECE OF ART CHARM is made of steel, created with the finest craftsmanship by metal artist Jon WATTO Watson. It's powder coated for a high gloss finish. Charm hangs on a gunmetal chain. The back of the charm is stamped with the WATTO artist stamp!
Please note whether you would like an 16",18", 20" or 24" chain.
Chain is gunmetal plated brass with lobster claw closure.
CHARM SIZE:

approx 1.67"w x 1.375"h

Comes packaged with a hangtag in a black pouch, with a certificate of authenticity to show it's the real deal!

Thanks to all of the celebrities for their photo with our Outlaw Kitty especially JACSKON GALAXY "The Cat Daddy" who is an amazing cat psychologist that can be seen on Animal Planet's "MY CAT FROM HELL." Check out his show! You'll be amazed.

Outlaw Kitty is copyrighted, and is a registered trademarked owned by WATTO Distinctive Metal Wear. Please do not use the name or image in any manner without prior written consent.