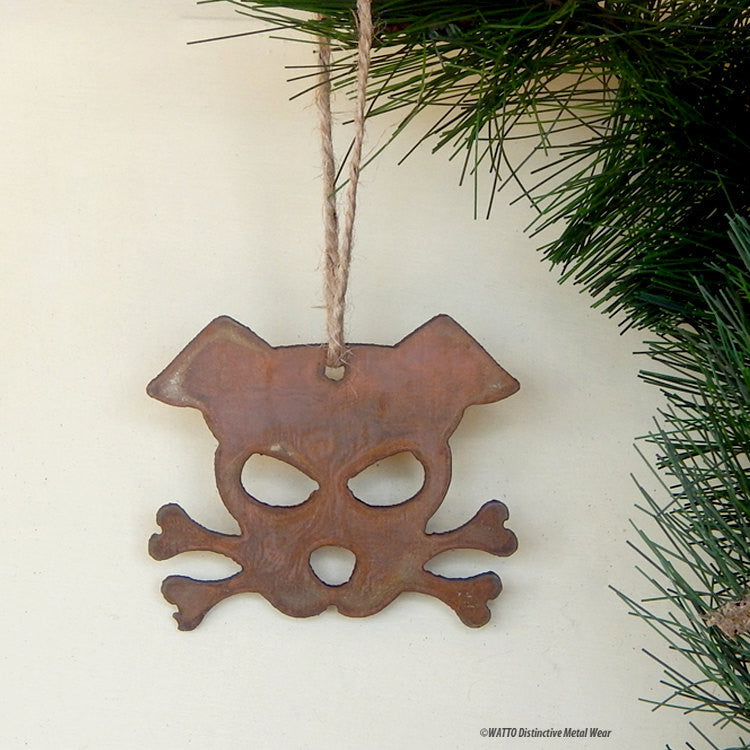 Are you a dog lover? Then you'll appreciate Bandit the Outlaw Doggy ornament.
Bandit our little Outlaw Doggy is quite the character! He loves to chase bunnies and bark at the postman and give lots of kisses. Does that remind you of your own little Outlaw Doggy at home?
Made of rusty steel, this ornament is of course great for Christmas tree decorating and the holidays, but can also be used every day as a ceiling fan pull, a car mirror dangle or just a fun decor piece. 
Created by metal man Jon WATTO Watson in his shop in Tucson, Arizona.
Size: 2.75" h  x 3.125" w 
Comes with a ribbon. Please indicate at checkout which color you would like. Please note ribbon in product photo may vary slightly in color
We cannot control the rust color- every ornament rusts differently and will vary from picture shown- see last image for an example of variations.
Edges will vary from rough to somewhat smooth.
Great for gift giving too!
WANT MULTIPLES (6 or more we offer discounts.)
Contact us and we can get you set up.


Outlaw Doggy is trademarked and copyrighted by WATTO Distinctive Metal Wear. Please do not use the name or image without prior written permission.